Due to the coronavirus (COVID-19), the Stroke Comeback Center in Vienna and Rockville will be closed until further notice. On-line classes are now being offered. Please check out our Virtual/On-line programming under our "Programs" tab.
Mind Matters Annual Luncheon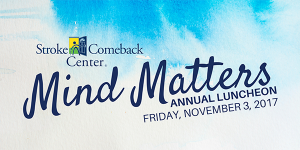 On November 3, 2017 over 80 friends of the Stroke Comeback Center came together at the Hyatt Regency Tysons Corner Center to enjoy an afternoon with Dr. Majid Fotuhi, M.D., Ph.D. This Harvard and Johns Hopkins trained neurologist gave a wonderful presentation on memory, aging, and increasing brain vitality. After the seated luncheon, he greeted guests and signed books from his most recent publication: Boost Your Brain: The New Art and Science Behind Enhanced Brain Performance.