Due to the coronavirus (COVID-19), the Stroke Comeback Center in Vienna and Rockville will be closed until further notice. On-line classes are now being offered. Please check out our Virtual/On-line programming under our "Programs" tab.
Technology
---
Technology is a vital part of our programs at SCC.  Members can:
Enroll in one of our technology based groups
Work independently in our computer lab
Sign up to work with an experienced technology partner
Request an individual technology session.
The Center has a dedicated computer lab and is WiFi-enabled for laptop, tablets, and smartphones use.
Computer Lab is used in groups, mentored sessions, and individual member practice.  The lab includes:
Networked computers, headphones, printers and adaptive hardware for SCC members.
Mobile devices for member use: laptops, iPad tablets, iPods, and Kindles.
Library of computer software and applications to provide independent or assisted practice of language skills: auditory comprehension, vocabulary development, writing structure and reading skills.
Virtual Groups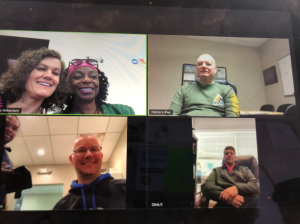 What are Virtual Groups?
Virtual groups use technology (computer with camera and microphone, smartphone or tablet) and free software (Zoom) to deliver classes at a distance by linking survivors with clinicians for groups, education or individual consultation.  This technology allows survivors face-to-face communication with others in the stroke and brain trauma community without leaving home.  Research has proven that although different, it is an effective way to work on skills.
Registration
Current members who attend groups in Rockville or Vienna and want to enroll in virtual groups can complete their registration at the Center or by emailing Suzanne. Inactive members or those not current members of the Stroke Comeback Center should email Melissa directly as . We are currently only able to serve those who live in Maryland, Virginia and North Carolina.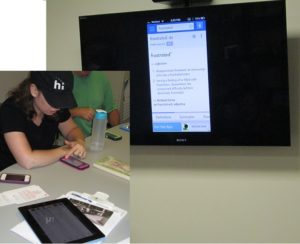 SCC's Conference Rooms are used in our group programs. The rooms have wireless connections for laptops and other mobile devices. The monitors project onto the television screen to show program materials, software or apps. Mobile devices, such as the Ipad, can be configured to be disability friendly. We show how to change the setup of the device for each member's needs. We find that tablet and smartphone apps assist members to live independently, practice language skills and interact with friends and family. Many of our members connect with each other outside the center via game apps like Words with Friends or Draw Something.
VASTTM Program
We began using closeup video of oral movements at SCC in order to help our members with apraxia learn to produce the tongue and lip movements necessary to produce speech and to speak simultaneously with the video to speak sentences, paragraphs, stories, tell jokes or even deliver a toast or speech.  Any member who is appropriate can be taught to use the VASTTM program to improve their ability to speak.
Our members had such success using this technique that we were encouraged to share the program with others who benefit from the technique.  We do this through our partnership with SpeakinMotionTM a small technology company which develops apps using the technique and a website that instructs in the use of the technique and provides custom recordings so that individuals can speak words, phrases, sentences that are most important to them.  Independent research  conducted in the Aphasia Lab at the University of South Carolina showed that after training with the use of the VASTTM technique, survivors with non-fluent aphasia produced 60% more words.  You can read about this research at Speech Entrainment.